OBC and WBSFC presents ...
---
These evenings at the OBC are limited to 150 person / building capacity.  First in, first served basis on all occasions unless RSVPs requested.   
Monday 8 November 7:30pm (doors open at 7:00pm)
Come join us on the evening of Monday 8 November for an opportunity to hear from representatives of the Hauraki Gulf Forum, The Noises Trust and the Revive Our Gulf project about the latest efforts to improve the state of the Hauraki Gulf. 
Alex Rogers, Executive Officer of the Hauraki Gulf Forum will talk about Central Government's moves to improve the state of the Gulf with the recently released "Revitalising the Gulf" strategy.  The Neureuter family returns to the OBC with an update on The Noises islands and their efforts to restore the marine environment.  Katina Conomos, project manager at The Noises Trust presents their latest marine science and survey data, and their plans and aspirations for the future of The Noises.   Peter Miles, Programme Director of the Revive Our Gulf project will present an update on progress in the mussel reef restoration project.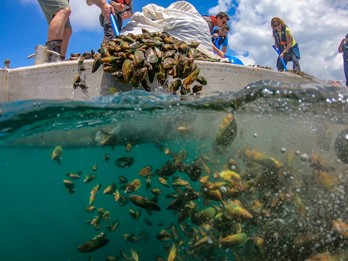 On now!  Open to all WBSFC members
WBSFC ANGLERS ELDORADO
Prize - $1,000 BILLFISH, $500 TUNA, $500 KINGFISH