OBC Tub Race
---
Tub Race ... 
This is a day packed with action.  
The Tub Race is open to the Public.
If the bath tub race is cancelled due to weather, the marquee at The Riverhead has been reserved for OBC members for lunch regardless.
See both flyers below!
TO REGISTER FOR THE TUB RACE COMPLETE THE ENTRY FORM (ABOVE) AND EMAIL ERIN@OBC.CO.NZ

A big Thank You to our wonderful Sponsors for making this event possible.  We always recommend our Sponsors first ... we urge you to use them too.
Auckland Oil Shop - Auckland's premier supply of quality lubricants and filtration
Banana Boat® - For all your suncare needs, we've got you covered™
BDO - Chartered Accountants and Advisors to NZ businesses and their owners
Brittain Wynyard - NZ's number one sporting and lifestyle goods distribution and marketing company
Devonport Chocolates - Delicious handmade gourmet chocolates from the seaside village of Devonport
Englefield - the total bathroom solution!
Fisher Chick Apparel Ltd - Like a fisherman, only better!
Gull - NZ's leading biofuel retailer
Fabian Yukich - Donated Villa Maria wine prizes
New World (Eastridge) - Serving the people of the Eastern Bays since 1995
Ovlov Marine - New Zealand's largest Volvo Penta Dealer
Rainbows End - Fun on Demand!
Rayglass - We are the leading manufacturer of GRP Powerboats in New Zealand
Repco - Auto Parts Store - Aftermarket Car Parts
Rogers Boat Shop - Big range of aluminium & fibreglass power boats. New & used boats
Schick® - Go beyond a close shave, Free your Skin™ and break away from life's little stresses
Surf Life Saving NZ - The national association representing 74  Surf Life Saving  Clubs in New Zealand
The Hutchwilco Boat Show - NZ's most popular Boat Show
The Riverhead - The Riverhead is thought to be New Zealand's oldest riverside tavern. It is loced in Riverhead just north of Auckland
Vetus-Maxwell - Supplier and manufacturer of quality marine equipment, engines, windlasses, winches, hatches, general deck hardware, bow thrusters, water, fuel and waste systems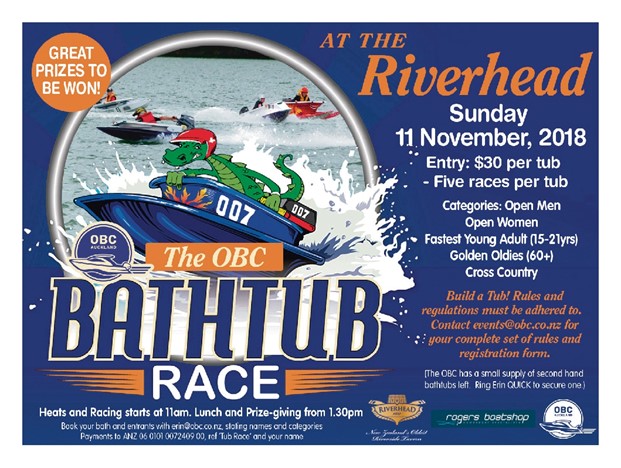 If you have any questions, please contact events@obc.co.nz