OBC Ladies Fishing Competition
---
Ladies Fishing Competition is back for 2022
Ladies of the OBC this day is all about you!
Registration Process
Complete the registration form and email complete form to events@obc.co.nz. ENTRIES CLOSE Saturday 5th November 2022.
You must launch from the OBC only, fishing hours are between 05:00 and 16:00 (measure close off). Competition Code available from 5am on Fishing Comp morning.
All eligible fish must be caught on a rod and reel or a handline with no more than three hooks attached. Fish cannot be caught in a net, longline or speared.
You can only upload ONE FISH, PER PERSON, PER CATEGORY
Top Tip - Take photos of all fish caught and carefully select which one to submit at the end of your fishing day.  Multiple entries will be removed and only first entry will be counted.
Things to Note -
-  Any Males on the boat CANNOT FISH this event (only females).
- Only pre-paid guests will be given entry for the evening (Ticket price includes Arrival Glass of Bubbles, Morepork BBQ Dinner, Elvis Tribute)
- If the fishing is cancelled due to bad weather, the evening event will still go ahead in the Club Room and prizes will be randomly drawn (CANCELLATION OF FISHING ONLY If wind is forecast to be over 20 knots in the Waitemata Harbour.)
- Any profit will be donated to the children's charity 'Make-A-Wish'
- Skippers must formulate their own rules about the distribution of prizes. The club will not be involved in any disputes. All decisions regarding the allocation of prizes by the Club are final.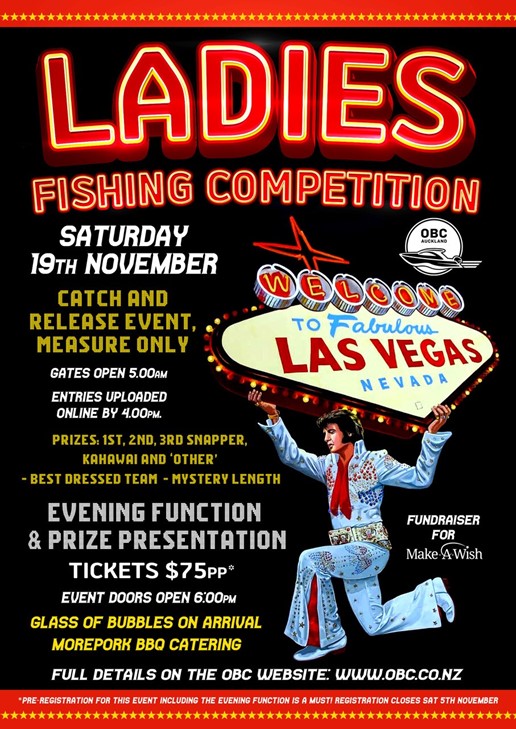 Evening Timeline (subject to change)
1800hrs Doors/bar open
1830hrs Morepork BBQ Catering serving dinner.
1900hrs Elvis Tribute begins
2000hrs Prize Giving
2030hrs Elvis Tribute 
2200hrs Evening Concludes
Registration form
Rules
Safety notes
Thank you to our 2022 sponsors below. 
Want to sponsor one of our events?  Email events@obc.co.nz today!
We encourage our members to use our sponsors first - every time! 
Splash -  Our world is underwater - Kindly sponsoring one Salvimar Ladies Seawalker Wetsuit