OBC Tub Race
---
Tub Race ... 
Rules (all coming soon)
Entry Form
Map
Health and Safety
This is a day packed with action.  
The Tub Race is open to the Public.
If the bath tub race is cancelled due to weather, the marquee at The Riverhead has been reserved for OBC members for lunch regardless.
See both flyers below!
TO REGISTER FOR THE TUB RACE COMPLETE THE ENTRY FORM (ABOVE) OR THE RIVERHEAD CONVOY CRUISE, EMAIL ERIN@OBC.CO.NZ YOUR BOAT NAME AND NUMBERS
A big Thank You to our wonderful Sponsors for making this event possible.  We always recommend our Sponsors first ... we urge you to use them too.
BDO - Chartered Accountants and Advisors to NZ businesses and their owners
Englefield - the total bathroom solution!
Fabian Yukich - Donated Villa Maria wine prizes
New World (Eastridge) - Serving the people of the Eastern Bays since 1995
Surf Life Saving NZ - The national association representing 74  Surf Life Saving  Clubs in New Zealand.
The Riverhead - The Riverhead is thought to be New Zealand's oldest riverside tavern. It is loced in Riverhead just north of Auckland.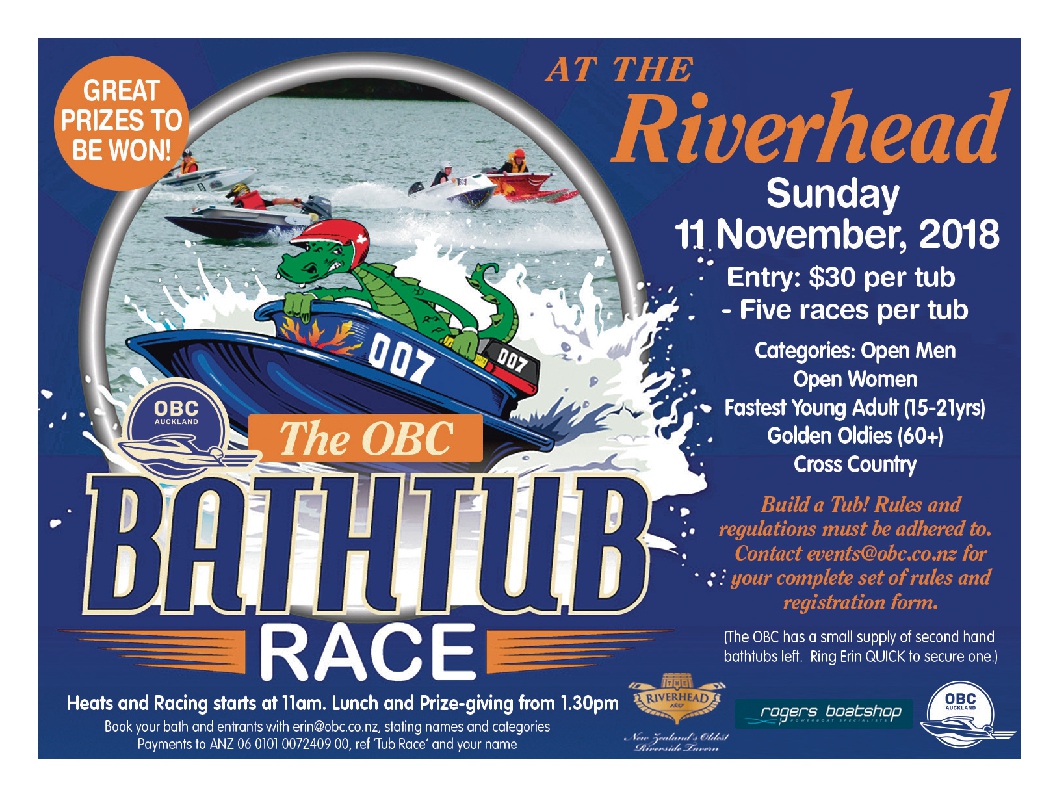 If you have any questions, please contact events@obc.co.nz