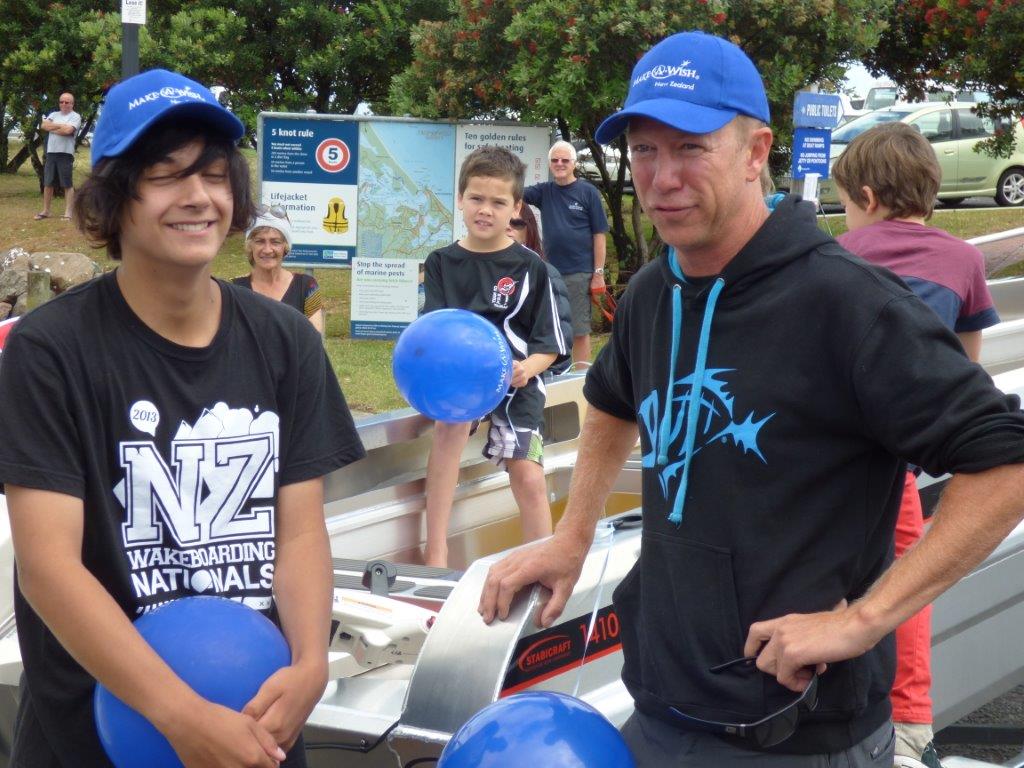 Meet Dayne!
Dayne Gear is a 14 (nearly 15) year old from Tauranga. On Thursday 18th December Make A Wish granted Dayne his wish.
Dayne has been undergoing treatment for Leukemia for the last four years, and had wished for a new aluminium dinghy with trailer and outboard as he has well outgrown his current inflatable (which he paid for by selling his computer and taking up a paper run). Dayne loves nothing more than spending his free days on the Tauranga Harbour with his grandpa hooking a Snapper or Kingy. If it wasn't possibile to get his first wish, his second was to go out for a day fishing with his favourite fishing personality Matt Watson.
On Thursday morning I was invited by Make-A-Wish to go down to Tauranga for the big reveal. As a major fundraiser (OBC Nauti Girls Ladies Fishing Comp) for this huge package Dayne was about to receive, I thought it would be neat to take some photos, be able to see Dayne's face as he was about to be blown away with excitement and share it with our members, particularly those who came, supported and helped fundraise at Nauti Girls in October this year.
Make-A-Wish Organisers and Coordinators, his many family members, other sponsors and myself met at a meeting point, where we decked our cars out with balloons. We then travelled in convoy down the road to the marina at Sulphur Point where Dayne and his mum sat quietly fishing off the pier. As all the cars arrived tooting and honking and making loads of noise, Dayne's jaw dropped. Not only had his new Stabicraft 1410 Explorer arrived but it was being towed by Matt Watson.
Dayne was such a great kid, taking time to graciously and humbly thank each of the sponsors who played a part in making his wish come true.
After Matt christened the boat with bubbles (as Dayne is underage), Dayne named his boat the Apex Hunter. Matt then gave Dayne a few more goodies from other sponsors; VHF Radio, Fish Finder, Chilly Bin, Rod & Reel, Life Jackets, Sunblock to name a few, then off they went for a fish in the Harbour together.
Unfortunately with time limits for the afternoon's proceedings, they couldn't stay out long and didn't get the opportunity to catch any whoppers!
The afternoon finished off with a BBQ at the Tauranga Fish and Dive Club, where more sponsors arrived, gave speeches and presented Dayne with a few last treats; NZ Fishing News Subscription, Coastguard Membership, VHF and Dayskipper courses etc.
It was amazing to be such a special part of Dayne's wish and he personally asked me to thank all of our members who helped raise funds for his wish. Before my departure back to Auckland, I presented him with an OBC cap and tee and asked him to pop in and visit us anytime he was up.